INDIANAPOLIS, IN (Tuesday, March 29, 2022) –
Ransomware security experts Halcyon has joined the Steinbrenner Racing team of partners for the 2022 NTT INDYCAR SERIES.
Halcyon will debut on the Andretti Steinbrenner Autosport entry of Devlin DeFrancesco at next week's race at the Acura Grand Prix of Long Beach.
Halcyon is the industry's first dedicated, adaptive cybersecurity platform that combines multiple proprietary advanced prevention engines along with AI models focused specifically on stopping ransomware.
Based in Austin, TX, but distributed globally, Halcyon was formed in 2021 by a team of cybersecurity industry veterans after battling the scourge of ransomware (and advanced threats) for years at some of the largest global security vendors.
"We're excited to add Halcyon to the Steinbrenner Racing group of partners," said Steinbrenner Racing co-owner, George Steinbrenner IV.
"Data is integral to what we do on and off the racetrack, so protecting that data is equally important. Having a partner like Halcyon ensures that our data is secure moving forward."
The Halcyon logo will be showcased on the No.29 Honda-powered entry at all remaining 2022 INDYCAR events, including the prestigious Indianapolis 500 in May.
"We're pleased to welcome Halcyon aboard the No. 29 Andretti Steinbrenner entry for 2022," said Steinbrenner Racing co-owner Julia Steinbrenner.
"As INDYCAR relies on innovation and data to drive on-track results, partnering with Halcyon and using their leading anti-ransomware technology helps protect a vital element of our performance."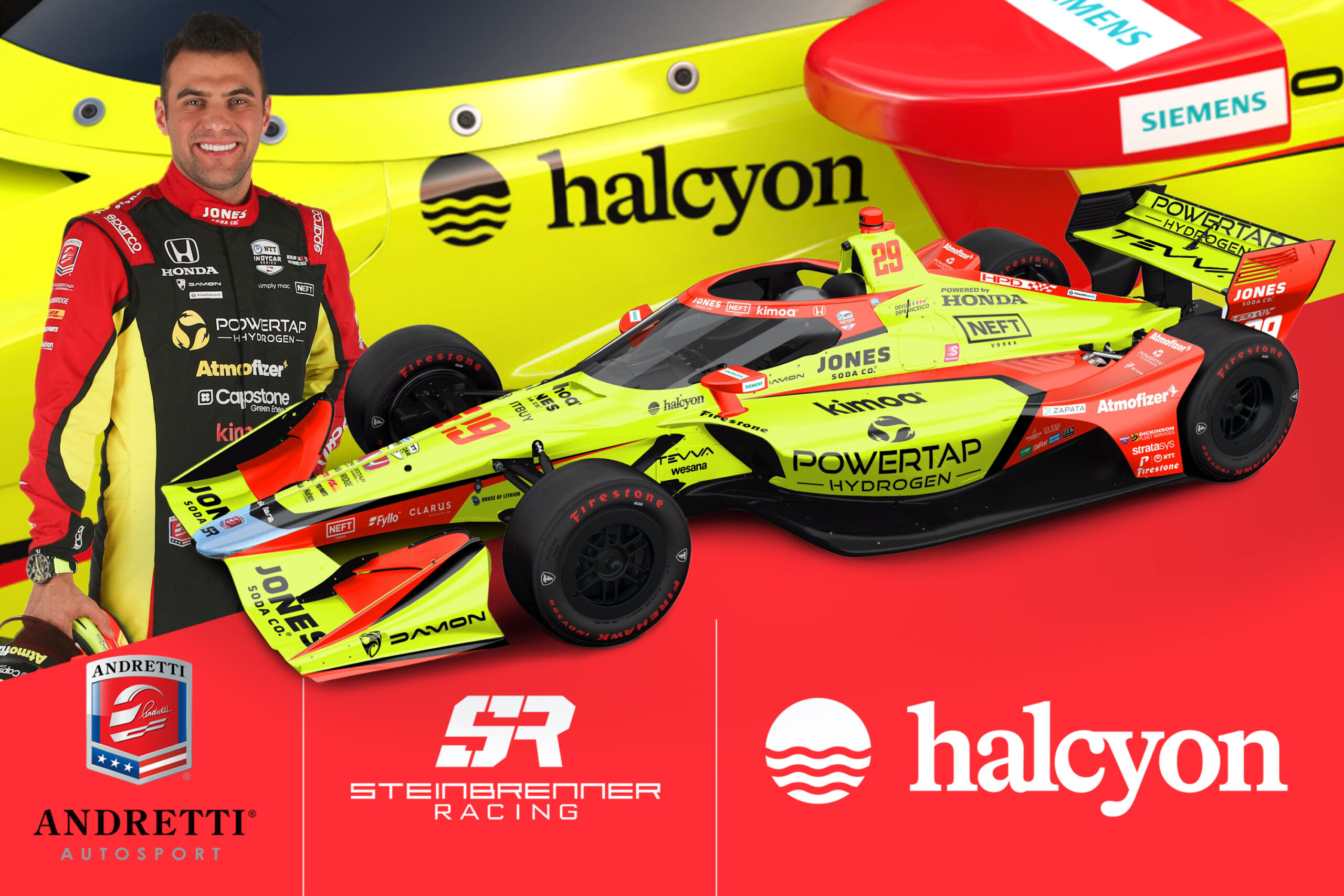 Halcyon joins a growing list of technology brands joining forces with Steinbrenner Racing for DeFrancesco's rookie year, including PowerTap Hydrogen, microturbine energy solutions provider Capstone Green Energy and clean technology company, Atmofizer.
"We're thrilled to partner with Andretti Steinbrenner Autosport and bring Halcyon's Anti-Ransomware Platform to the growing IndyCar market," said Landon Lewis, VP Partnerships, Halcyon.
"The connection between cybersecurity and auto racing is a natural one. Both require precision and speed, gaps are exploited, and milliseconds always count. Our Anti-Ransomware Platform helps businesses stay ahead of cyber attackers at every turn."
"Bringing the Halcyon Anti-Ransomware Platform to market with Andretti Steinbrenner Autosport is a perfect match," said Jon Miller, CEO and Co-Founder, Halcyon. "Pairing the fastest ransomware prevention solution on the market with the fastest team on the grid is a big win for both teams."
Additional technology brands that will feature on the car in 2022 include electric motorcycle pioneers Damon Motorcycles; software and services company Fyllo; and green technologies investment company, The House of Lithium.
Major retail brands will also be showcased on the car, including Kimoa – the fashion, clothing, and accessories brand founded by Fernando Alonso; Seattle, WA-based Jones Soda Co. and returning Andretti Steinbrenner Autosport partner – small-batch and Austrian-distilled ultra-premium brand, NEFT Vodka.
ABOUT HALCYON
Halcyon is an American cybersecurity software company focused on stopping the most destructive force facing businesses today: ransomware. The Halcyon Anti-Ransomware Platform is a best-of-breed prevention solution that offers multi-layered protection against ransomware with built-in resiliency and recovery options offering vastly reduced risk of an incident impacting business operations. Halcyon is a venture-backed private company with funding from Corner Ventures, Syn Ventures, Founders Fund, and Gula Tech Adventures. For more information on Halcyon, please visit www.halcyon.ai and get a demo of the Halcyon Anti-Ransomware Platform.
ABOUT STEINBRENNER RACING
Founded in 2016 by George Steinbrenner IV, Steinbrenner Racing is an American-based motorsports team competing within the NTT INDYCAR Series in addition to multiple seasons within developmental series designed to groom future INDYCAR stars. Joined by sister Julia Steinbrenner as Co-Owner and Partner, both are members of a family known for winning and success with the New York Yankees and share a passion for racing from an early age.
Though a young team, Steinbrenner Racing has experienced consistent success within each series entered. Included within is an unprecedented sweep of three Indy Lights races in May of 2018 at Indianapolis Motor Speedway, capped by a Freedom 100 win. Additionally, Steinbrenner Racing would go on to earn designation as the youngest-ever NTT INDYCAR Series race-winning team owner and driver with a notable 2019 triumph at Circuit of The Americas in Austin, TX.
Competing within the world's fastest and most diverse racing series, Steinbrenner Racing enters a sixth year of competition in 2022 together with Andretti Autosport. A winning combination, Andretti Steinbrenner entries have earned eleven race wins, fifteen poles, and thirty-two total podiums.