ABOUT STEINBRENNER Racing
George Michael Steinbrenner, the grandson of late New York Yankees owner of the same name, founded Steinbrenner Racing in 2016 with a goal of becoming nothing short of a championship-contending race team at all levels of motorsports.
Steinbrenner grew up a racing fan. His stepfather, Sean Jones, is a RallyCross team co-owner with Bryan Herta. George learned the ropes of racing from the bottom up working on the Bryan Herta RallyCross doing everything from hospitality setup on up. Before that, George first became a fan of INDYCAR while cheering on his late cousin, Tony Renna, an INDYCAR driver.
After two seasons in Indy Lights, Steinbrenner Racing made the leap to INDYCAR by partnering with Harding Racing to field the #88 car, driven by rookie sensation Colton Herta. In their first year in INDYCAR, the team finished impressively with 2 wins and 3 poles. 
Steinbrenner Racing History 
2002:
A drawing by young George Michael Steinbrenner IV, age 6.  His rendering of the #21 Kelley Racing entry, once driven by cousin Tony Renna, projects himself as a future NTT INDYCAR Series team owner in noting (upper right corner) "Owner G.M.S."
2016:
Steinbrenner Racing is formed (INDYCAR Article), joining Andretti Autosport to field Colton Herta within the Indy Lights Presented by Cooper Tires series beginning with the 2017 season. The newly formed team joins two iconic names in sport, Steinbrenner and Andretti, both synonymous with winning.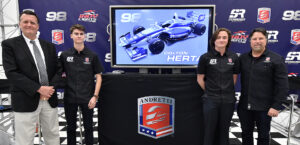 2017:
Newly formed Steinbrenner Racing makes its presence known in the first race weekend of the 2017 season in the Firestone Grand Prix of St. Petersburg, FL with rookie Colton Herta capturing pole position in race #1 and the win in race #2.  A second inaugural season win would follow in race #2 at the Honda Indy Grand Prix of Alabama race weekend at Barber Motorsports Park. Steinbrenner Racing would complete the 2017 season finishing third in Championship standings, having earned 2 wins, 7 podiums and 6 poles.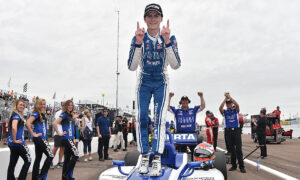 2018:
In a second season of Indy Lights Presented by Cooper Tires competition, history was made by Steinbrenner Racing at the iconic Indianapolis Motor Speedway. A triumph at the Freedom 100 capped a clean sweep of all three events during May 2018 (Read more). Between two wins on the road course and ahead of the Freedom 100, driver Colton Herta had to fly home to California to take his high school senior year final exams. The 2018 season for Steinbrenner Racing improved upon 2017 results, notching 4 wins, 13 podiums and 3 poles.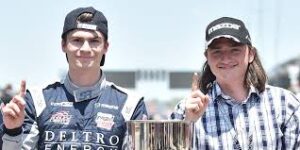 2019:
Steinbrenner Racing moves to the NTT INDYCAR Series by joining forces with Harding Racing, as announced at Yankee Stadium on September 19, 2018, ahead of a Boston Red Sox vs. New York Yankees game. The 2019 season would see Steinbrenner Racing enter the INDYCAR history books with a triumph at Circuit of The Americas (Read more) in just the second event of the young season. The win gave Steinbrenner and Herta designation as the youngest-ever winning driver and team owner tandem in INDYCAR. The team would close their 2019 rookie season with an impressive win from pole at the Firestone Grand Prix of Monterey, finishing overall with 2 wins and 3 poles.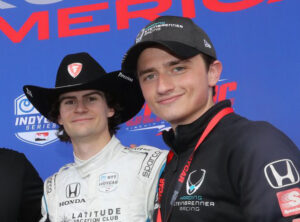 2020:
Steinbrenner Racing rejoins Andretti Autosport in continuing a partnership fielding Colton Herta that began in 2016 at the IndyLights Presented by Cooper Tires level within the Road to Indy ladder program. Amid a season of adaptation and challenges resulting from the COVID-19 pandemic, Steinbrenner Racing and driver Colton Herta again were able to capture victory.  Representing a second win from pole, race #2 of the Honda Indy 200 at Mid-Ohio weekend also saw Herta lead a podium sweep among his Andretti Autosport teammates.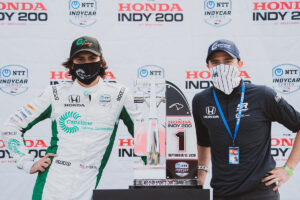 Photo by: Taylor Robbins